Hello! Happy August. I hope you're vaccinated or are getting vaccinated, and that you've been able to read and enjoy the summer some.
If you're looking for reading material, I've reviewed three more books that might give you some ideas…
True Grit, by Charles Portis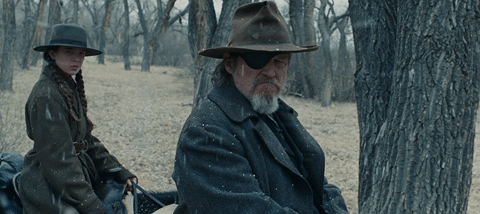 "'I will inform them myself,' said I. 'Who is the best marshal they have?' The sheriff thought on it for a minute. He said, 'I would have to weigh that proposition. There is near about two hundred of them [….] The meanest one is Rooster Cogburn. He is a pitiless man, double-tough, and fear don't enter into this thinking. He loves to pull a cork. Now L.T. Quinn, he brings his prisoners in alive. He may let one get by now and then but he believes even the worst of men is entitled to a fair shake. Also the court does not pay any fees for dead men. Quinn is a good peace officer and a lay preacher to boot. He will not plant evidence or abuse a prisoner. He is straight as a string. Yes, I will say Quinn is about the best they have.' I said, 'Where can I find this Rooster?'"
This book, which inspired the movies, is about a fourteen-year-old girl named Mattie who wants to avenge her father's murder in the Wild West. So she enlists the help of Rooster Cogburn, a one-eyed marshal with dubious morals.
What made the book good was the dialogue. All the characters were very witty and could hold their own, and entertain the reader at the same time. Meanwhile, Portis was usually able to get away with this without coming off like he was forcing his characters to be witty for the sake of showing off to the reader. That made the dialogue work, in my opinion.
The plot was interesting, too, but an important part of it felt illogical and sexist (I won't spoil it, though–you'll have to see for yourself whether you agree). This didn't ruin the book, but it did make the story less impactful than it could have been.
Basically, if this book didn't have any dialogue, it would not be worth reading. Fortunately for us, it does.
"Incident at Vichy," by Arthur Miller
"Many times I used to ask my friends– if you love your country why is it necessary to hate other countries? To be a good German why must you despise everything that is not German? Until I realized the answer. They do these things not because they are German but because they are nothing. It is the hallmark of the age– the less you exist the more important it is to make a clear impression."
This play by Arthur Miller is about a group of people in Vichy France in 1942. They're prisoners of the Nazi collaborators and they don't know why. This set-up lets Arthur Miller examine ideas like collective guilt, the psychology of groups and individuals, idealism and nihilism, and so on.
The play was thought-provoking. It reminded me of Sartre's "The Condemned of Altona," except Miller's play was much shorter and asked more questions than it answered. It also seemed to have more psychological depth when examining the nature of guilt.
In contrast to another play (Miller's tragic "Death of a Salesman"), "Vichy" felt fresher. "Salesman's" characters had to adhere to Miller's pre-ordained tragic plot-formula. "Vichy's" characters didn't adhere to a formula, which meant that Miller didn't have to contrive everyone's actions to fit into it. "Vichy's" characters were being explored, which gave them more room to act like real humans, whereas if Miller had let "Salesman's" characters act too human, they wouldn't have fit well into the play's tragic formula.
So even though "Salesman" is more lauded than "Vichy" (Pulitzer Prize, etc.), and more emotionally-engaging (personal opinion), I would still argue that "Vichy's" characters are more realistic than "Salesman's."
Anyway, I would recommend it.
Consider This: Moments in My Writing Life After Which Everything Was Different, by Chuck Palahniuk
"This is another reason to bother collecting stories. Because our existence is a constant flow of the impossible, the implausible, the coincidental. And what we see on television and in films must always be diluted to make it 'believable.' We're trained to live in constant denial of the miraculous. And it's only by telling our stories that we get any sense of how extraordinary human existence actually can be."
This is a book of writing advice. It read a lot like, "remember to use verbs instead of adjectives! And remember to do XYZ!", and a lot of it felt obvious or were things I already did in my writing. Even so, they were good reminders. Also, it was interesting to read them because Palahniuk brought a new perspective to why these different things were important to do.
Palahniuk also included memoir-like sections about his crazy fans, how he learned to write, and how his experiences shaped his views on the craft. These sections were filled with anecdotes like, "I did XYZ and it worked for me so much in writing Story ABC." Even if people give you writing techniques, it helps for them to also give you real anecdotes that explain how such techniques worked for them.
Overall, everything wasn't different after I finished reading this book, but it enriched things a little bit. In terms of substance, Consider This felt more useful than Cortázar's book on writing, less useful than Stephen King's book, and equally useful as Vargas Llosa's.
So I would recommend it.
Until next week!