Hello! Happy Tuesday. I hope you are all well, and if you've experienced Henri, that you are safe. I survived, thankfully, and so I'm bringing you three more reviews. Two of them are about early Steinbeck novels, and one of them is a review of an online poetry collection…
The Red Pony, by John Steinbeck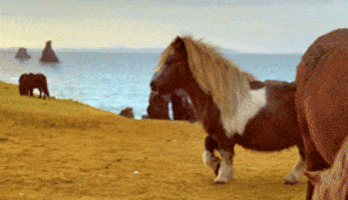 "As the gray and silent army marched past, led by Jody, the animals stopped their feeding and watched it go by. Suddenly Jody stopped. The gray army halted, bewildered and nervous. Jody went down on his knees. The army stood in long uneasy ranks for a moment, and then, with a soft sigh of sorrow, rose up in a faint gray mist and disappeared."
This is a book of one longish story and a few shorter stories. They focus on a boy named Jody who lives on a farm in California. The first one's about him getting a red pony to train and keep as his own. The other stories are about him doing other things on the farm. Somehow it's supposed to be a collection about coming-of-age, but I didn't see much coming-of-age in the stories themselves.
Anyway, the first story was good, but the others weren't as good. My reasoning was ridiculously subjective: I was expecting more horses in this collection than there were, so I was distracted a lot of the time wondering when they would show up. When they finally did show up, they felt anticlimactic. So learn from me: there weren't that many horses in these stories.
However, if you love occasional horses and want to read some early Steinbeck, this book would be an enjoyable read.
Online Poems of Boris Pasternak
"Is it only dirt you notice?
Does the thaw not catch your glance?
As a dapple-grey fine stallion
Does it not through ditches dance?"
Recently, I came across this really cool website of poetry, and started reading all the poems on Boris Pasternak's page. So, this isn't really a review of a Pasternak poetry book. Instead it's a review of the poems I read on the website.
Pasternak was interesting to read. Sometimes, he never really said anything about a specific object but referred to it indirectly through a mood or certain word-choices. Thus, a poem would seem to be about a bunch of curtains but in reality it was about an affair.
Some of the poems were unsatisfying since they were so confusing. Others were great. I could figure out what they were about, but it took some work to do so.
Other poems were entertaining because they were very evocative of seasons (springtime) and moods (sadness). Reading Pasternak also gave me an appreciation for how many ways someone could write about the same subject (springtime) or about the same mood (sadness). In fact, another name for Pasternak could be, "The Sad Poet of Springtime."
Overall, I would recommend checking out at least some of the poems on the website. I've actually been inspired to check out more books by Pasternak in the future, so stay tuned…
Tortilla Flat, by John Steinbeck
"The sergeant lined [the men] up in front of his desk. They passed everything but the sobriety test and then the sergeant began his questions with Pilon. 'What branch do you want to go in?' ' I don' give a god-dam,' said Pilon jauntily. 'I guess we need men like you in the infantry.' And Pilon was written so. He turned then to Big Joe, and the Portagee was getting sober. 'Where do you want to go?' 'I want to go home,' Big Joe said miserably. The sergeant put him in the infantry too. Finally he confronted Danny, who was sleeping on his feet. 'Where do you want to go?' 'Huh?' 'I say, what branch?' 'What do you mean, "branch?"' 'What can you do?' 'Me? I can do anything.'"
I don't understand why this book wasn't advertised as funny on its jacket because it is. It's about a Californian man named Danny and his friends who live in a house called Tortilla Flat and go to ridiculous ends to get more wine to drink. It's based on the legend of King Arthur somehow. Aside from some vague similarities, I didn't really see any real parallels.
As I said before, the book was hilarious, and funnier than a lot of other "funny" things I read. Steinbeck seemed to be enjoying himself when he wrote this. Otherwise it wouldn't have been as enjoyable as it was.
However, the end wasn't as good. Steinbeck seemed to stop enjoying himself somewhere near the end of Chapter XII. The rest of the book felt phoned-in somehow. It was still funny, but then it became less and less funny, and then it turned into what felt like Steinbeck trying hard to get readers to feel emotions that he himself didn't feel as a writer. To me, this forced emotionality marred the ending of what was otherwise a hilarious book.
So overall, the book was funny, and I'd definitely recommend it. Just don't expect a greatly-written ending…