Hello! I've read a 700-page book this past week (somehow). It was very fun to read, and it felt very close to being a great book.
I'll start with my review and end with some favorite quotes.
Blood & Sweat, by Abdi-Jamil Nurpeisov,
Translated by Catherine Fitzpatrick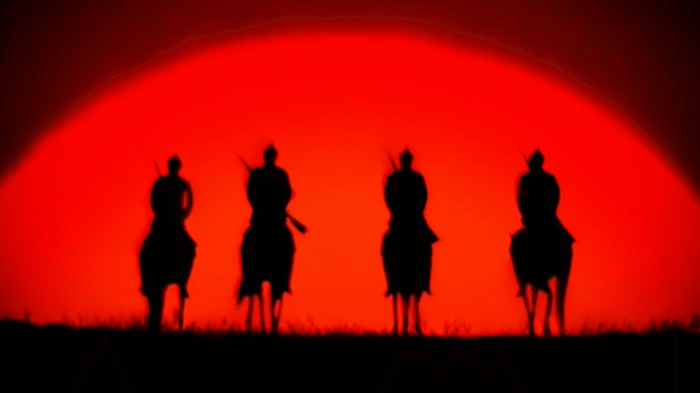 Blood & Sweat is an epic novel set in Kazakhstan before and during the Russian Civil War. It's about several characters, but mostly, it's about a Kazakh named Elaman who lives in an aul (nomadic settlement) near the Aral Sea. He falls in and out of love with various women, struggles to find his place as Russian influence increases, and eventually finds himself fighting for his life during the Civil War.
This book (which consists of three smaller Books) read a lot like a Kazakh version of Joseph Roth's The Radetzky March. Yes, Blood & Sweat was less consistent in quality, and it had a LOT of typos. Even so, the typos should be ignored, since parts of Blood & Sweat actually felt broader and richer than Roth's book. Nurpeisov was especially good at bringing several characters together and having them unexpectedly impact each other. Character A might seem unimportant until he stumbles upon the major Character B and kills him, for instance.
The characters quarreled a lot, though. Especially in Book 2, some of the quarrels felt melodramatic and repetitive. Also, Blood & Sweat seemed to underuse its female characters. For instance, one of Elaman's love-interests only thought of him, and how excited she was to make his dinner every night and care for his kids. Meanwhile, the men thought about their wives, but they also thought about things like the meaning of life and how they would adapt to the changing aul. Given that the men had this range of thoughts, it would have been realistic for at least a few of the women to also have complex thoughts. So, the repetitive bouts of melodramatic arguing and underused female characters meant that parts of this book felt less well-written than they could have been.
Book 3 was the best in my opinion. Whereas the earlier books didn't usually have the characters being compassionate towards each other, this last book did! It was surprising to me how much of a difference it made to see characters caring about each other. In fact, some of the best moments in the book came out of this dynamic, since they helped the characters become less cardboard-y and feel much more human.
Also, the characters tended to gain more depth as the book went on. Character A would seem like an absolute jerk, but then two hundred pages later Nurpeisov would describe his backstory and the character would become much more sympathetic/relatable. So the book's psychological texture (especially nearer the end) was excellent.
To me, the author's sympathy for his characters, as well as the characters' eventual sympathy for each other was what made the epic cast of characters so effective.
Overall, Blood & Sweat was really good. It was uneven in quality (with some truly great scenes intermixed with some less-great scenes). Even so, while it was consistently uneven, it was also consistently engaging and entertaining to read. So if you can read it, definitely read it.
Now, as promised, here are some favorite scenes/excerpts:
"The broken boards of the boat crushed Andrei's legs, and [he] fell out onto the ice, and shouted, 'Jalmurat!' Jalmurat did not answer. Then Andrei, his fingernails ripping off, grabbed his frozen coat, dragged him on the ice, and began breathing into his mouth. 'Hey!' he called Jalmurat, shaking him. 'Can you hear me? Can you hear…' And only now did he notice that Jalmurat's arms and legs had turned to stone. Jalmurat was dead. Andrei was so frightened that he was about to drag Jalmurat's body away, when he caught himself, and dropped him. Then in a delirium, he meandered along somewhere with the wind […] In the darkness, he didn't notice a crack in the ice beneath him. He tripped over the crack, plunged forward, and fell flat on the ice, breaking his face. He lay for a while, and then tried to get up. The storm wind blew all the powder off the ice, and the ice was smooth and strong as glass." (From Book 1)
"[Kalen said…] 'I will not die before my death.'" (From Book 1)
"The steppe slowly awakened. Thawed by the spring sun, it dosed and breathed steam. Near the auls, in the depths of a ravine overgrown with meadowsweet, where the sun didn't reach, yellowish snow still gleamed on the ground, like a souvenir dropped by the stern guest who had only recently stormed through the steppe." (From Book 2)
"After finally finding a bit to eat, and having a drink of hot tea, Dyakov felt his eyelids were growing heavy again. He wanted nothing more than to fall asleep, even right here at the table.  […] he hadn't noticed how Selivanov had moved his chair closer and sat down next to him. He hadn't sensed the pitying gaze of his host, either. His thin body was bent on the [chair]. He sat obliviously, with his head on his chest, although at the edge of awareness he realized that it was time for him to return to the regiment. 'Pyotr Yalovlevich, lie down in the bed,' said Selivanov, touching his shoulder. 'No, no,' Dyakov said, rousing himself. 'Thank you. I'll leave now.' […] 'Pyotr Yakovlevich…' 'Yes?' 'You have probably had a hard time in life, eh?' 'Hmm… Do you have anything to smoke?' 'But you're not allowed?' 'Although…yes, of course. What time is it?' 'It's after 1:00 AM.' 'I'll go.' […] Recalling Selivanov's question, whether he had had a hard life, he suddenly laughed and said, in a singsong voice, 'You know, "…fate gave him a brief age, a glorious name, consumption and Siberia…" That's how it is, brother. Well, goodbye!' And after shaking Selivanov's warm, soft hand, Dyakov went out into the night's gloom." (From Book 3)
Until next week!