Hi! I hope you're all healthy and safe, and are getting vaccinated if you are able. I've been writing papers and studying for finals, so I haven't had much time to read, but I did have time for one entertaining story and one beautiful one:
"Kashtanka," by Anton Chekhov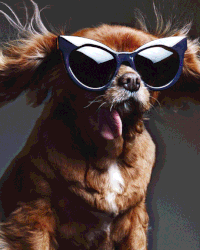 "When it got quite dark, Kashtanka was overcome by despair and horror. She huddled up in an entrance and began whining piteously. The long day's journeying with Luka Alexandritch had exhausted her, her ears and her paws were freezing, and, what was more, she was terribly hungry. Only twice in the whole day had she tasted a morsel: she had eaten a little paste at the bookbinder's, and in one of the taverns she had found a sausage skin on the floor, near the counter — that was all. If she had been a human being she would have certainly thought: 'No, it is impossible to live like this! I must shoot myself!' [….] But she thought of nothing, she simply whined."
This story is about a dog named Kashtanka who gets separated from her master and wanders around the streets. She eventually gets taken in by a mysterious stranger who turns out to be a circus-master. Thus begins her career in the circus.
The story was fun to read. It has around 10 chapters, but each chapter was rather short. Their titles were funny, too.
It was also interesting to see Chekhov think that dogs could see in color (even though they're color-blind), so I kept being put off by that small detail. The end (not spoiling anything here) also felt a bit too convenient, like there wasn't enough of a struggle to deserve it.
Even so, if you're sort of stressed from writing papers and studying for final exams, this would be a terrific story to read on your break!
"The Pomegranate," by Kawabata Yasunari
"'Kimiko, Kimiko!' her mother called. 'Keikichi is here.' Kimiko had let her needle come unthreaded. She pushed it back into the pincushion. 'Kimiko had been saying how she wanted to see you again before you leave.' Keikichi was going to war. 'But we could hardly go and see you without an invitation, and you didn't come. It was good of you to come today.' She asked him to stay for lunch, but he was in a hurry. 'Well, do at least have a pomegranate. We grew it ourselves.' She called up to Kimiko again. He greeted her with his eyes, as if it were more than he could do to wait for her to come down. She stopped on the stairs. Something warm seemed to come into his eyes, and the pomegranate fell from his hand."
"The Pomegranate" is about a girl named Kimiko who picks a pomegranate. There's a lot more to the story than that (as you can kind of see from the excerpt) but telling you any more will spoil things.
Just read it instead. It literally takes less than a minute and will be super-worth it. Kawabata also won the Nobel Prize, if that helps convince you.
Moral of the story: Just go and read it already 🙂