Hello! I hope you are all healthy and safe (as always). Today is Hemingway's birthday. Even though none of the books I've read for this week are by him, I hope you still find them inspiring:
Zlata's Diary: A Child's Life in Sarajevo, by Zlata Filipovič
"I went with Alexandra to the old Sarajevo library, the Vječnica. Generations and generations of people enriched their knowledge by reading and leafing through countless books. Somebody once said that books are the greatest treasure, the greatest friend one has. The Vječnica was such a treasure trove. We had so many friends there. But now we've lost the treasure and the friends and the lovely old building. They all went up in the destroying flames. The Vječnica is now a treasure trove of ashes, bricks, and the odd scrap of paper. I brought home a piece of brick and a fragment of metal as a memento of that treasure-house of friends."
In 1991, ten-year-old Zlata Filipovič started keeping a diary of her life in Sarajevo, the capitol of Bosnia and Herzegovina. At first she wrote about her days at school, her friends, and her piano lessons. In 1992, the Bosnian war began, and Zlata started writing about her days sheltering from bombs, her dead friends, and her ruined childhood.
She also wrote about how she found solace. Sometimes, after being without electricity for days, it would turn on, and she and her family would get to enjoy TV. Other times she'd be able to meet some of her surviving friends. In spite of these reprieves, Zlata wanted to enjoy her childhood again, and she spent about three years before she could.
Early on in her diary, Zlata wrote that since Anne Frank named her diary "Kitty," she wanted to give her own diary a name, too. She decided on "Mimmy." As time passed, parts of her diary were published. These sections were used to help the international peace efforts, and people began thinking of Zlata as the Anne Frank of Sarajevo. At that point, Zlata no longer wanted to be like Anne Frank. Anne Frank wound up dead, and Zlata didn't want to die. The interesting thing is that while Anne Frank kept a diary and died, Zlata's published diary gave her international attention, which likely wound up being a reason she and her family were finally able to be transported out of war-torn Sarajevo to Paris.
Her diary is worth reading. It's one of those accounts that make you grateful for what you have. It's also one of those accounts that show how seeking hope can help people through times of tragedy.
The Letters of Gustave Flaubert 1830-1857, Translated by Francis Steegmuller
"What worries me in my book [Madame Bovary] is the element of entertainment. That side is weak; there is not enough action. I maintain, however, that ideas are action. It is more difficult to hold the reader's interest with them, I know, but if the style is right it can be done. I now have fifty pages in a row without a single event [….] If I bring it off, it will be a great achievement, I think, for it will be like painting in monotone without contrasts—not easy. But I fear all these subtleties will be wearisome, and that the reader will long for more movement. Still, one must be loyal to one's concept. If I tried to insert action, I would be following a rule, and would spoil everything. One must sing with one's own voice, and mine will never be dramatic."
This book has a bunch of letters by the writer Gustave Flaubert, spanning from the first letter he ever wrote as a child to the letters he wrote when he published Madame Bovary. The book's like a diary in a way. You see how Flaubert develops as a writer. He goes from being obsessed with sentimentality to despising it and wanting to achieve a pure prose. You also see the way his awkward similes gradually transform into astutely-conveyed images. Later on, you can see his struggles with Bovary, which turned out to be one of the best parts of the letters.
Seeing all of the thought he put into his book gave me more respect for him as a writer. After I read Bovary, I thought it was overrated and sometimes boring. I didn't see how style alone could sustain a book. Maybe Flaubert didn't even think it might come off as uninteresting at all. After gaining some context from these letters, I still think Bovary is boring, but now I see that Flaubert was much more reflective than I thought. He created his own vision of a style-based story, and he knew that people might be bored by his story, but was determined to write it that way because it was just who he was. Now that's inspiring.
So overall, I'd say these letters are interesting to read because they show you how Flaubert came into his own as a writer.
War and Peace Part 2, By Leo Tolstoy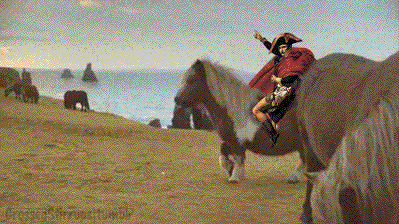 "Sidorov winked at them and began talking to the French, rapidly gabbling out incomprehensible words: 'Kari, mala, musiu, paskavili, muter, kaska, moushchit,' he gabbled, trying to pronounce the words with an expressive intonation. 'Ho, ho, ho! Ha, ha, ha, ha! Uh! Uh!' The soldiers broke into a roar of laughter so hearty and jolly that it was involuntarily communicated across the line to the French, after which it seemed that they all really ought to unload their muskets, blow up their ammunition and go back home as quickly as possible. But the muskets remained loaded, the loopholes in the houses and fortifications gazed forward as menacingly as ever and the cannon detached from their limbers remained facing each other just as before."
In the second part of Tolstoy's epic first draft of War and Peace (first part here, third part here, fourth part here, fifth part here, sixth part here, seventh part here), some of the characters go to war. These characters include Prince Andrei Bolkonsky, a guy named Dolokhov, a guy named Rostov, and a guy named Denisov.
There are basically two groups of soldiers, and the characters are split between these two groups. Some of the characters go from one group to the other, and other characters stay in the same group. In the end it all culminates in an epic-ish battle, which is nice.
Splitting his characters into two groups enables Tolstoy to shift points of view a lot without causing too much confusion. It also enables him to draw parallels. There would be one scene of a character hearing about someone stealing something, and then there'll be another scene of a character in the other group being stolen from. There'll be a scene where one character in the first group hears about a certain army being defeated by Napoleon, and then there'll be another scene where other characters in the second group fight against Napoleon (I won't spoil what happens).
Part 2 isn't what you'd expect from an account of war. If you've ever read Erich Maria Remarque's All Quiet on the Western Front (you should), you would remember how most of the book is about the awful horrors of war. There's some horror in Part 2 of War and Peace, but not as much as I expected. There's a surprising amount of happiness, actually—happiness about potentially being promoted in the army, happiness about being able to command armies, and happiness about hanging around in the barracks doing nothing. Now, if you've ever read Brian Jacques' Redwall series, you'd find jolly talking mice laying siege to some castle. Part 2 of Tolstoy's book reminded me more of that (minus the talking mice). I'm guessing there'll be more horror in future sections, but Tolstoy can't pile it all on this early or it'll get boring. With that being said, all the happiness in Part 2 makes it surprisingly refreshing.
One other thing: This is a first draft I'm reading. Part 1 doesn't read much like a draft. Some of Part 2 does. This kind of shows in Tolstoy's descriptions of battles. The narration comes off more like something you'd read in a history textbook, with random details scattered in that sound like something the narrator heard from his uncle who fought in the war. Come to think of it, Tolstoy probably did hear those details from one of his relatives, since they did fight in the war, and Tolstoy did ask them about their experiences when he was researching for the book.
In any case, even if the battles don't quite come to life, the characters always do, and on the whole, this surprisingly happy section was pretty entertaining.
Until next time!