Hello. I hope you are all well. I've been able to get back to the library to take out some really thick and really thin books. One of them is reviewed here. The others will probably take a while longer to get through.
Meanwhile, here are my reviews:
Animal Farm, by George Orwell
"'I have little more to say. I merely repeat, remember always your duty of enmity towards Man and all his ways. Whatever goes upon two legs is an enemy. Whatever goes upon four legs, or has wings, is a friend. And remember also that in fighting against Man, we must not come to resemble him. Even when you have conquered him, do not adopt his vices.'"
Animal Farm is about a bunch of animals on a farm who rebel against their human farmer, kick him out, and try to govern themselves. It's also an allegory about the Russian Revolution. Will the animals manage to live in peace among themselves and preserve their enmity towards Man? Will they remain steadfast in their determination not to adopt his vices? If you've already read the book and are re-reading it like I did, you'll know the answer.
Yet is the book still worth re-reading? For me it was. The first time I read it, I was really young and didn't fully understand all of its political subtext. This time I did understand the subtext, and so I found myself laughing at some of the references to the Russian Revolution.
Even if you did understand the subtext first time around, Animal Farm is one of those books that become more enjoyable when you know the ending. You now have time to think. How exactly do the animals wind up in their situation? Could it have been prevented? What lessons can we learn now?
Basically, Animal Farm is still as classic as ever. It's also very short and worth the hour-and-a-half it would take to read, or to re-read, or to re-re-read.
Characters, by Theophrastus
"When he's serving in the military and the infantry are advancing to attack, [the Coward] calls to his comrades and urges them to stand alongside him first and survey the field, saying it's hard to tell which men are the enemy. Hearing a roar and seeing men falling, he tells his comrades that in his haste he forgot to bring his sword. He then runs to his tent and sends his slave outside, ordering him to see where the enemy troops are. Hiding the sword under his pillow, he then spends a long time pretending to search for it."
Characters is that book that you take out when you're able to get back to the library for the first time in months. It's written by a Greek named Theophrastus. In it, he satirizes different types of people he's met in Athens (such as the Coward, the Pinchpenny, and the Complainer). The satirical sketches are short and sometimes entertaining. They're much more entertaining when you realize they were written thousands of years ago, and that people haven't really changed much since then.
The Day Lasts More than a Hundred Years, by Chingiz Aitmatov
"'I have no writing table. As soon as my brood settle down to sleep, Zaripa reads, and I write down things while I can still remember what happened—about the war, and especially my years in Yugoslavia. Time passes and the past goes further away into the distance.' He was silent, and then added, 'All the time I'm thinking about what I can do for my children. Of course there is a general truth for everyone, but everyone has his own understanding about things, and this understanding dies with him. When a man hovers between life and death in the midst of a world conflict; when he is nearly killed a hundred times over and yet still survives, then he has learnt a great deal about good and evil, truth and falsehood […] My legacy is my soul, my writings, and in them is all that I understood and learnt from the war. I have no greater riches to leave to my children.'"
This book is so amazing that its essence can't really be summarized by one quote. Written by Kyrgyz author Chingiz Aitmatov, it's set in Kazakhstan under the Soviet Union. It takes place during one day in the life of a man named Yedigei, who's going to bury his friend, Kazangap, in the desert. It's also about aliens, nuclear war, traditional legends, and peoples' lives. It's funny, tragic, and heartfelt. It feels so epic, but it's only like 350 pages long.
With all that epicness, Aitmatov's book can also be interpreted as a criticism of the Soviet Union's treatment of Kazakhstan. Basically, he implies that the Soviet Union tried to erase the Central Asian peoples' history and traditions to better oppress them. What's surprising is that this book was published while Kazakhstan was still a Soviet state—Aitmatov was able to get this book (Soviet criticism and all) past the censors and into print.
The Day Lasts More than a Hundred Years may remind you of Kurt Vonnegut's Slaughterhouse-Five because of its aliens, non-chronological progression, and intellectual leanings. There's a difference, though. Vonnegut's book has more of a detached intellectualism. Aitmatov's book has some intellectualness, but it's mainly a compelling and compassionate story about people.
Its cover is really cool, too: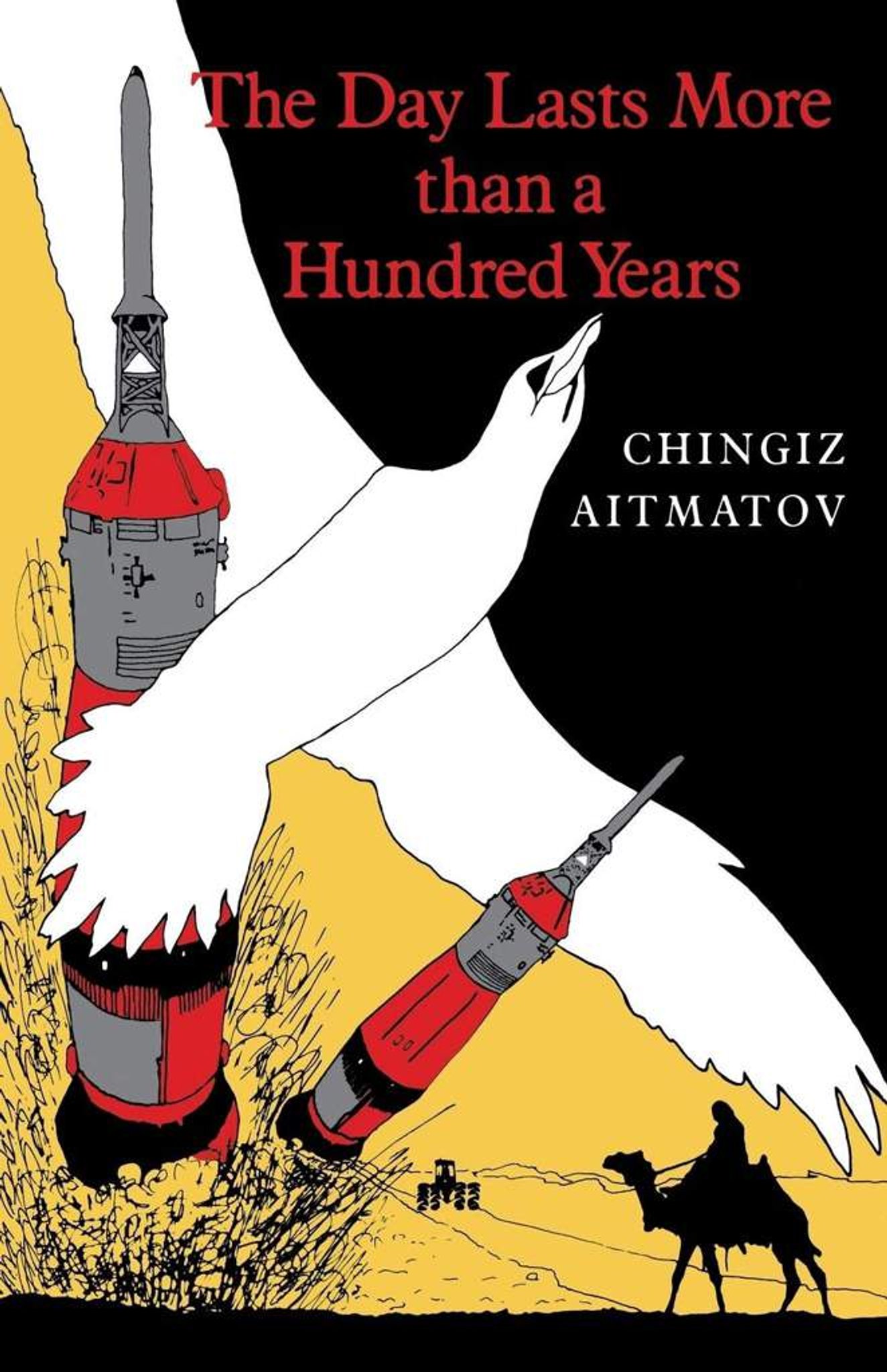 I can keep rambling on incoherently and listing adjectives to try to convince you to read it, but I won't. I'll just say that Aitmatov's book is amazing and underrated and that it should be a classic.
Until next time! I hope you are all safe, healthy, happy, and reading.