Hello everyone. I hope you're all healthy and safe. I've read three more books. Below are my reviews:
Swordspoint, by Ellen Kushner
"The blood lies on the snow of a formal winter garden, now trampled and muddy. A man lies dead, the snow filling in the hollows of his eyes, while another man is twisted up, grunting, sweating frog-ponds on the frozen earth, waiting for someone to come and help him. The hero of this little tableau has just vaulted the garden wall and is running like mad into the darkness while the darkness lasts."
Swordspoint is a fantasy book about a swordsman named Richard St. Vier who's hired by nobles to duel others who the nobles want to die. Richard always wins, so he has a big reputation. Richard also has a lover named Alec, who's a former university student. Meanwhile there are nobles who want power, and a noble named Michael who wants to become a swordsman himself (even though it goes against custom).
So you have all these pieces and you're waiting for them to come together, and they do, sort of. Then they kind of fall back apart. Characters who seem like they're going to be relevant are only relevant for a scene or so, and then disappear into obscurity. Themes that you think will be explored fully are mentioned somewhat, then fade into the darkness. Conflicts that you think will be resolved one way are resolved in another, less-exciting way, and you're left wondering what happened.
I would say to read it for the middle. That's where things kind of come together and the book is at its most compelling. Also, the book is notable for its early exploration of LGBTQ themes in fantasy lit—it was published in 1987.
That's another reason to read it.
The Assault, by Harry Mulisch
"'Fake,' said Anton. 'I understand that you'd want to defend your father. He was, after all, your father. But if your father had been my father, if everything had been turned around, would you then be defending Fake Ploeg? Let's not kid each other. Your father was killed by the Communists with premeditation because they had decided that it was essential, but my family was senselessly slaughtered by Fascists, of whom your father was one. Isn't that right?' Fake turned his back to Anton and remained motionless, bent slightly forward, as he asked, 'Are you implying it was my father's fault that your family was murdered?' […] 'Why can't you love your father without trying to white-wash him?' asked Anton. 'After all, it doesn't take much to love a saint. That's like loving animals. Why don't you simply say: my father was definitely a collaborator, but he was my father and I love him.' 'But dammit, he was not a collaborator, at least, not in the way you're implying.' 'But suppose you knew for certain,' Anton said to his back, 'that he had done terrible things… God knows… just name something… wouldn't you still love him?'"
In this book, a kid named Anton lives in occupied Holland during World War II, and witnesses a traumatic event involving bicycles and Nazis. In this event, his family dies, leaving him as the only survivor. Anton spends the rest of his life trying to forget the incident, only for reminders of it to keep popping up (the book spans from the year 1945 to 1981).
There are an awful lot of coincidences and chance encounters, but the way they're handled makes up for it. The author could've just had Anton react the same way each time (try to avoid his past, etc.). That would've made the book boring and monotonous. Instead, Anton has different reactions, so different aspects of his experience are emphasized, and different effects are achieved. It's this variety of effects that gives the book a sense of development and makes it an interesting and unpredictable read.
The Assault also has a lot of great dramatic moments and psychological insights. None of it is melodramatic, though, probably due to the contrast between dramatic moments and quiet moments. Even so, the quiet moments don't really seem to go beyond what I had expected. I expected psychological suppression and I got psychological suppression (instead of getting a new insight into Anton, etc). So while the encounters and drama aren't monotonous, the quiet moments are.
It's also interesting to see how things evolve as time progresses. We see the end of World War II, the Vietnam War, and the nuclear disarmament movement. We see that Anton, whose life changed in 1945, is kind of trapped in the past as the rest of the world moves on and forgets him and his strife. This is fascinating.
Overall, I'd say this book is better than most I've read recently, due to its dramatic sincerity and interesting ideas. And it's even more interesting if you read about Mulisch's life…
Van Gogh on Art and Artists: Letters to Emile Bernard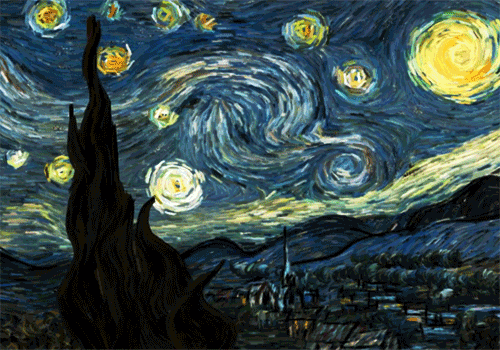 "Last year you did a picture—according to what Gauguin told me—which I imagine to be somewhat as follows: on the grass, which fills the foreground, lies stretched full length the figure of a girl in a blue or white dress; behind her the edge of a wood of beech trees, the ground covered with red leaves which have fallen, the tree-trunks gray-green giving the effect of vertical stripes [….] So I said to myself what a simple subject, and how well he achieves elegance with nothing."
These letters are between the painter Vincent Van Gogh and fellow artist Emile Bernard. Van Gogh's letters are interesting to read but the main thing I got out of them was that you have to go to Africa to become a true artist. So even though Van Gogh gives some insights on others' work (like the idea of everything expressing its inner nature), I don't feel that the majority of the letters say anything revolutionary. Even so, it is cool to see Van Gogh's thoughts on some of the other painters of his time, and I'm sure that, for painters, there's probably a lot more to be gained from this book than what I did.
Thanks for reading. If you read any of the books I've reviewed, I'd love to hear your thoughts!
See you next week.